HOME
Voom, LLC specializes in Power Generation Services. We overlay a company-wide commitment to customer service with nearly 20 years of industrial process equipment knowledge. As a result, our customers enjoy the cost-effectiveness and efficiency of a small integrated and highly focused one-stop-shop for their design, fabrication, installation and maintenance support needs. Our Value Optimized Operations and Maintenance keeps Voom's customers coming back for more. We get it done right……and right now.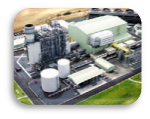 Headquartered in Orlando Florida, Voom, LLC is comprised of three divisions. Our Engineering and Design Division offers customers the benefits of an EPC engineering firm with the flexibility they need for fast-track projects under a million dollars. Our professional engineering staff has industrial expertise in instrumentation, controls, mechanical, piping, electrical and process engineering. Our designers work with AutoCad and other software packages to develop efficient custom design layouts. Our application expertise in fluidic process control across a diverse group of industries provides us with unique knowledge to optimize equipment selection to achieve the most cost effective end-to-end solution.
Our Manufacturing Division is seamlessly integrated with our application engineering group. As a result, Voom, LLC can offer economical custom fabrications and assemblies. We specialize in panels, integrated process packages, precision flow meters and fire protection systems. We are also uniquely organized to provide the Power Generation industry with an economical choice for modifications and upgrades to OEM process equipment. Parts specification, purchasing, drafting, fabrication and assembly are seamlessly integrated on turn-key projects for customers who don't have the time to micro-manage project execution.
Our Field Services Division forms the third cornerstone of Voom, LLC's overall capabilities. We employ talented non-union drug-free professionals with a broad spectrum of skill sets to supplement plant maintenance and project implementation staff. Our specialty crafts include: I&C techs, welders, pipe and tube-fitters, calibration techs, electricians, mechanics, reliability engineers, RCFA consultants, start-up engineers, valve repair and process engineering consultants. We implement multi-craft smart solutions based on the latest technology and tools available. Voom, LLC is in the business of keeping your plant running. Our experienced service crews arrive ready to hit the ground running so you don't waste time babysitting another contractor.
Rely on Voom, LLC whether you are looking for just a part or a complete turn-key solution to improving your plant's availability, reliability and competitiveness. The synergy within our engineering, manufacturing and field service divisions gives us un-paralleled efficiency in executing any or all aspects of your next project. Voom's one-stop shopping experience keeps you focused on the big picture so your work gets done right….and right now.